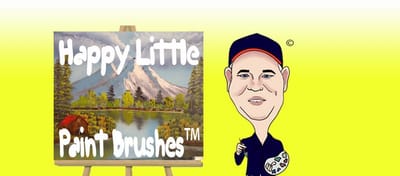 Happy Little Paint Brushes Class Rules for Covid 19 pandemic
Mask are not required in class but are encouraged.

Flu season is here as well so If you feel ill or have symptoms of any sickness not just Covid 19, please respect the other people in class and DO NOT COME TO CLASS! We will give you a raincheck that is good for another class and will make sure we get you in a future class. Please do not come to class sick! We reserve the right to ask anyone to leave if you are apparently ill. Please keep us all safe!

Gloves will be provided to use if you want to use them.

All tools that are used during class will be cleaned in odorless paint thinner and wiped down with a "Clorox" type wipe or with a sanitation solution of water and bleach. This includes brushes, pallets, knives, and easels. The canvases are all wrapped from the factory and will be opened "new" before each class.

Due to the shortage of hand sanitizer at times we may not be able to have hand sanitizer at every class. It is encouraged to have your own if you feel you need some.

Everyone will be seated at least 6 ft apart from other students. If you are a family or bring a friend that you are comfortable with and would like to sit closer together you can do so.

Please be sure to wear appropriate clothes to the class as you will probably get some paint on them.

Happy Little Paint Brushes reserves the right to cancel a class if the need arises. Please know that if a class is canceled rain checks will be given to all students that have paid and another class will be offered until we can accommodate all students.